(and other info that's worth looking into)

If you're new to the world of precious metals,

if you're concerned about the future of the dollar,

if you want to know what interests me in this,

please watch this video.  ----------->>>>>>>>

If you are compelled to believe there is no substantial value to this and that I'm misinformed somehow, that's perfectly fine with me.  If you still find my work valuable, feel free to take advantage of this special offer.  I can assure you, more people will follow suit as time goes on.

Why are so many "CASH 4 GOLD" businesses popping up everywhere?  Think about it...

 I will accept a 1oz silver round for a 90-min treatment, regardless of spot value.  If you have savings, I strongly suggest converting it to silver, or gold if you can afford it.  Check your 
local coin shop
 for retail or perhaps 
Midas Resources
 if you wish to attain it online.
So why am I doing this?  Why not just charge the regular price for 90mins and buy over 2oz of silver with the money?  Assuming you are new to buying precious metals, I'm offering this special as a way to acquaint you with the process, popularize an important savings method, and hopefully introduce bodywork to people who otherwise could not afford it.  

Many people are afraid to learn new ways of doing things, but with rapid inflation of the dollar, this is not something people will want to avoid, if they wish to protect their savings.  When the dollar is substantially inflated, I may lower the prices (in silver) for my services.  Not only is it a preemptively good business practice, it's unconscionable to not talk about it.

The silver special rate only applies to the 90mins of bodywork itself, and does not cover the expenses of travel, unless you live within the City of Golden.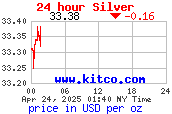 Email: jeremy at jpbodywork dot com

Low-level restaurant and grocery staff, students and military veterans may use the Silver Rate once a month.  Everybody else may use it once every two months.  Be sure to provide proof of your status, such as a pay stub, ID, etcetera.  

Note: I will not accept cash in place of the silver round.  The primary condition for this deal is taking the time to get it, in order to become familiar with what real money feels like.  If you must pay cash, my rate for 90 minutes is $90.  If you don't have a silver coin to present for treatment, perhaps you don't have enough silver in your possession.  Think about it.